Certificate of Accomplishment, DFIN-511 Introduction to Digital Currencies
The University of Nicosia uses the Bitcoin blockchain to verify the authenticity of certificates that have been awarded.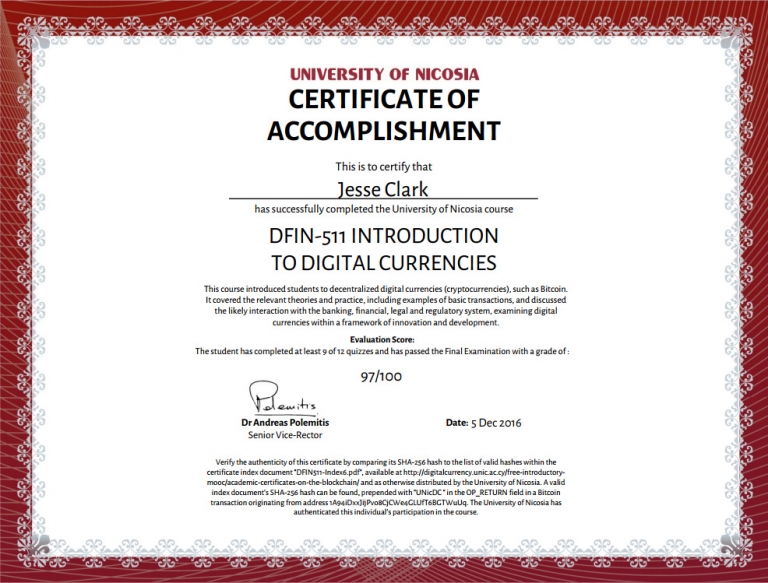 To verify my certificate, you will need the following three links:
Verify that the certificate is valid
Compute and verify the hash of my certificate. It will be:
7676bd44e616e732f669747c5362b79d093fb4bd18b23fd9241b75c248b17716
Find the hash in the list of valid hashes
Look at the second PDF link which has a list of valid certificates. The hash of my certificate is on page 5. In case the University goes out of business or the website is down, I have a copy of this document as well.
Verify that the list of certificates is valid
To verify that this list of certificates is valid, compute the hash of the list of hashes PDF. It will be:
8ba8729bf6577e0540ac8efbf4ffafec3f666721a423ce9f42242669941fa4fd
Compare the hash to the Bitcoin blockchain
The third link is to the Bitcoin blockchain using SmartBit. Find the transaction:
509f6b149d71661aa803ebf13c7f6f55a4fece961982fca2d72d5a084968b8b1
The OP_RETURN value contains the hash of the list of certificates. It is now confirmed that the certificate above is valid.
Filed Under