Colorado Poets Center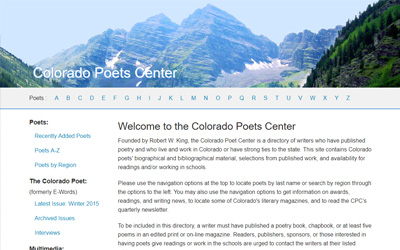 The Colorado Poets Center website is the longest site that I have maintained. I took over maintenance of the website when I was a student at the University of Northern Colorado and since then redesigned it and moved it off their servers when their funding dried up.
The site contains biographical information for over 200 poets in Colorado. The majority of the poets have three or four poems, contact information, and bibliographical history.
Over the years I have considered porting it from Dreamweaver templates into something a bit more modern. However, the templating system that I initially set up works for the structure of the content.
Skills
Project URL